As 2014 comes to a close, let's reflect on some real life cautionary tales from the social media realm.
Twitter CFO's Accidental Leak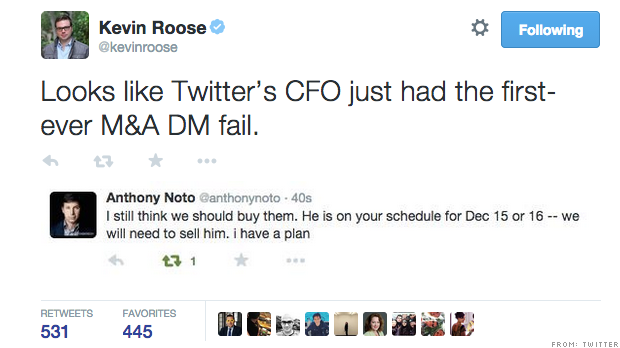 This recent mishap set off a stream of jokes directed at Twitter CFO Anthony Noto in regards to his ability to use the popular platform. Obviously, Noto didn't mean to tweet details about a potential business acquisition out to the world. Unfortunately for the executive, screenshots were taken of the flub. After this public 'oops', Noto is sure to make sure his correspondence is kept 100% private.
American Apparel Reminds Us of Their Poor Taste
Having a young social media manager is no excuse for using the Challenger explosion in a Tumblr post touting the Fourth of July. Research is key when it comes to selecting images. American Apparel is no stranger to being labeled "offensive," but geez.
DiGiorno Pizza Serves Up a Bad Idea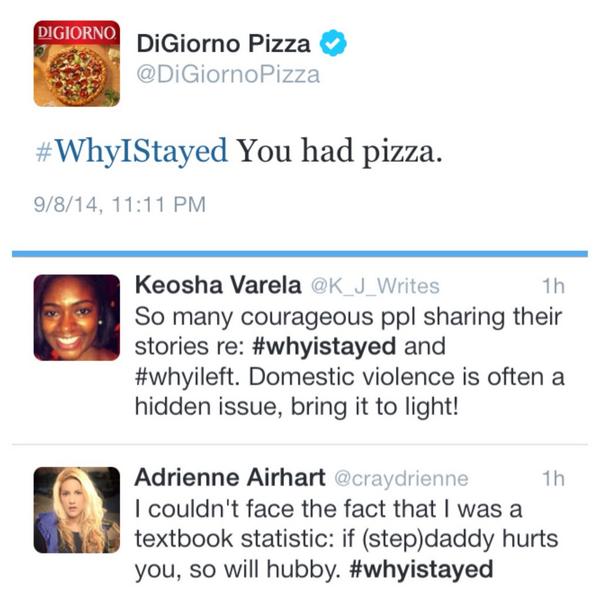 This is why social media teams need to act with sensitivity and be aware of the context behind trending hashtags. Shameful.
PayPal's Rakesh "Rocky" Agrawal Goes Rouge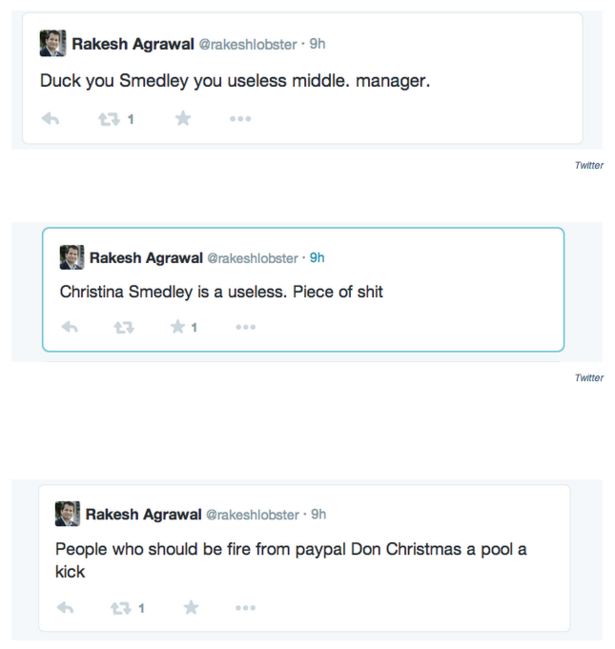 While visiting New Orleans, PayPal's director of global strategy decided to jump on Twitter and attack his colleagues. His targets included PayPal's vice president of global communications Christina Smedley. Sure this is more of a personal issue, but Rocky's high level position within PayPal caused his strange antics to hit the radar in a major way. Needless to say, Rocky tweeted himself out of a job…"Rakesh Agrawal is no longer with the company. Treat everyone with respect. No excuses. PayPal has zero tolerance."
What was his excuse for this weird tirade? The UX of Twitter and his brand new Android phone. Okay…
NYPD Hashtag Goes Awry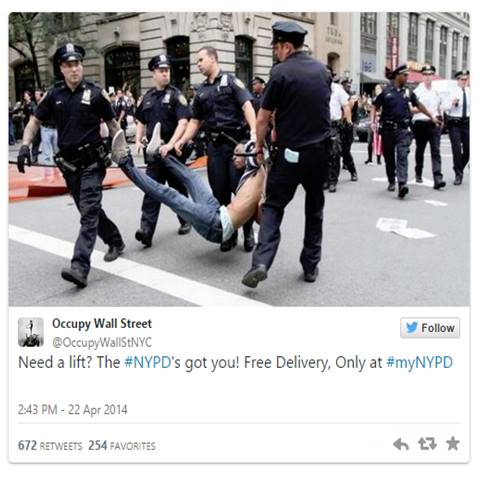 The NYPD tried to reach out to the public with their #myNYPD Twitter hashtag. Oh, the public reached right back with boatloads of negative images. Yikes.
Dave & Buster's Now Serves Tacos with a Side of Racism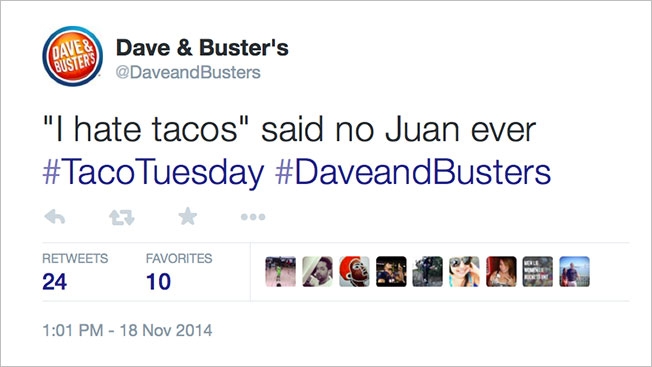 The restaurant chain quickly apologized for this very questionable tweet.
US Airways Provides a Vivid Alternate Ending to Lost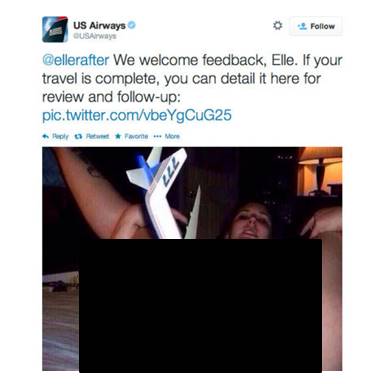 This terrifying photo made it onto the US Airways Twitter account by a totally honest mistake…really. According to US Airways reps, the social media team was attempting to flag an inappropriate tweet that contained the graphic image. Unfortunately, the pic.twitter.com URL was also copied over and the graphic picture was then pasted into a tweet directed toward a consumer. No angry employee trying to get back at their employers, just a very terrible error.
Delta Needs to Read Up on Giraffe Habitat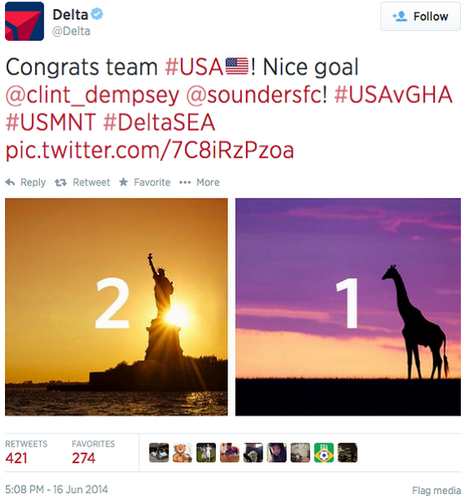 Delta made a laughable and embarrassing mistake while congratulating Team USA during the World Cup. The problem? Giraffes are not native to Ghana. At least this airline flub is waaaay less horrible than a model airplane flying into lady parts.
The Patriots Make a SUPER Fail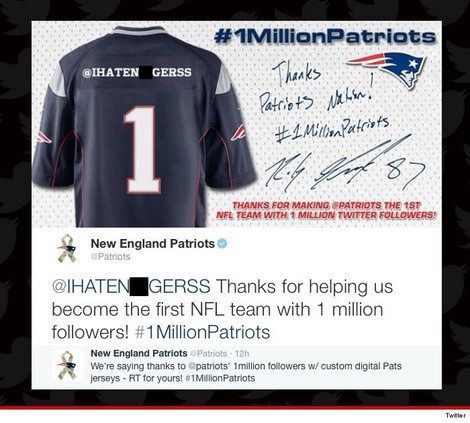 The New England Patriots organization learned the hard way that automation doesn't always make life easier. Unchecked, it can cause a major nightmare. Not even Tom Brady can help in this situation.
JCP Gone Wild?
Whhhut!!! OKAAY!!! YEEEAAHHH!!!
No, this mess was a stunt created on purpose for the Super Bowl. Why? They wanted to look 'hacked' but instead came out looking really sophomoric.
Bill Cosby's Sinister Memes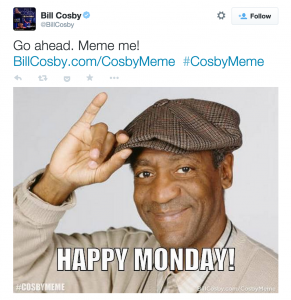 Maybe requesting memes to be made while the subject is being accused of raping women over multiple decades is a bad idea? The Cosby social media team soon found out that the internet has some teeth.
After viewing all of these depressing fails, let's end on a high note…