Sitting out when it comes to mobile marketing? Well, it's time to get off the bench and get your head in the game!
The TomiAhonen Almanac reveals that the average person checks their mobile phone about 150 times per day. Think that's excessive? Go out in public and look around. What are people doing? Exactly.
Thanks to the mobile device's portability, personalization, and ability to practically be fused to the human body; mobile is edging out the standard PC in terms of time spent in use. This almost obsessive behavior creates a perfect "open door" for savvy marketers to reach a highly targeted audience on the move.
According to the 2nd Annual U.S. Mobile Path-to-Purchase Study released by xAd and Telmetrics, consumers are utilizing their mobile devices to hunt down local products and services… even while they're in the store. (The popular Target Cartwheel App anyone…)
The growing affinity for smartphones and mobile devices has caused the "Mobile First" marketing trend to gain momentum and become an important piece of marketing strategy for brands. This movement has drastically changed the process of web design and app development, it's smarter to build sites and apps with mobile in mind, rather than spinning off a separate mobile version of the main website. Brands are discovering many competitive advantages to reaching consumers via mobile devices while also gaining more data on consumer behavior and preferences.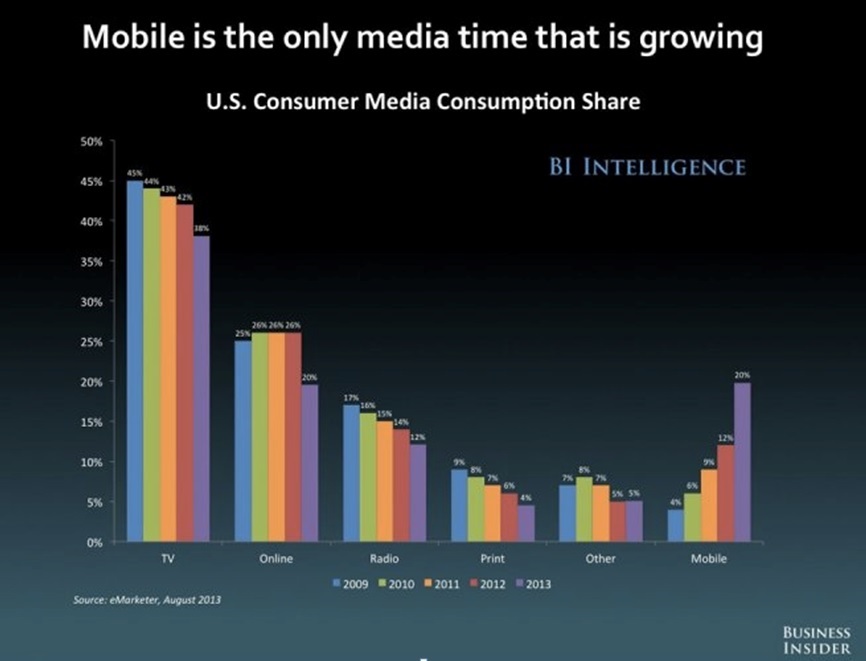 So how can marketers ensure that they are reaching their intended audience via mobile? Two words: Native Advertising.
Native ads make a perfect match for mobile marketing since native ads appear within streams of editorial content, making it easier for people to see and interact with the native ads on their mobile devices. As mobile devices become more important to reach customers online, native ads will become more important to companies' overall mobile marketing strategies.
Social media juggernaut, Facebook, just launched a new in-app mobile ad network, which allows marketers to reach targeted audiences within other mobile apps based on the Facebook users' stated interests and demographic information from Facebook. This is an expansion of Facebook's niche targeting tools to be able to reach users of other mobile apps. Native ads will be one of the ad formats available on the Facebook in-app mobile ad network.
Think of mobile and social media as having a beneficial symbiotic relationship. Mobile users are actively connecting with social media apps, sharing content across their social network with the tap of a finger. So if your brand is optimized for mobile and has a good social media presence, you have found the coveted sweet spot.
As more users demand content via mobile devices, more publishers will create "mobile first" platforms and advertising inventory that is a good fit for native ads, and advertiser dollars will follow. In a mobile first world, native ads need to be part of any brand's mobile first marketing strategy.